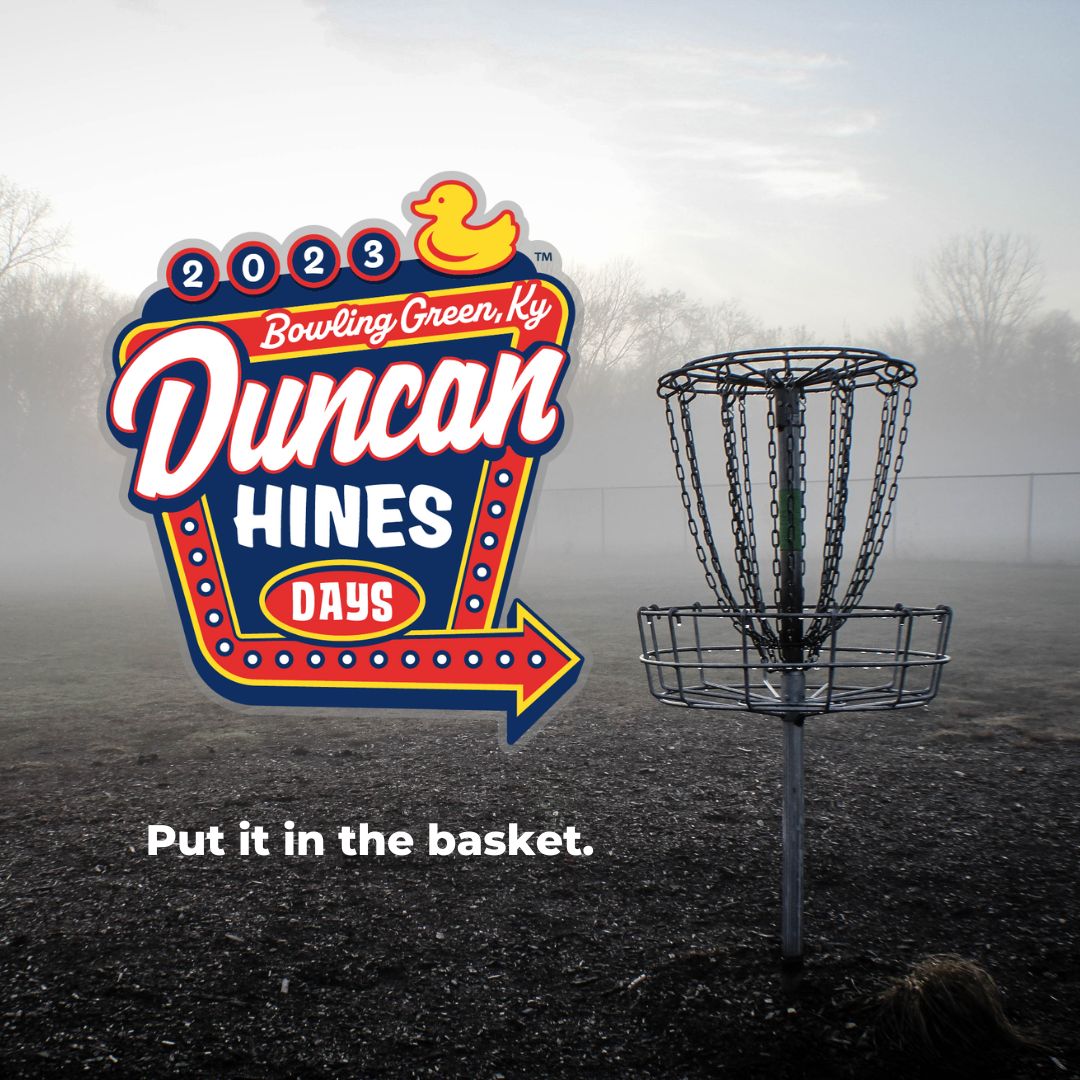 Duncan Hines Disc Golf Tournament
This will be a two round,
PDGA sanctioned, tournament
at Phil Moore Park.
The park offers long bomber holes out in the open as well as technical wooded holes. There are getable birdie holes, but some holes can be tough! Not only will you be competing for cash or prizes but there will be a good amount of free CTP's for everyone!
Player's Pack, Am Payouts, Open Payouts – Cash TBD
Entry Fee Prices: Amateur – $45, Open – $60, Junior- $30
Schedule:
7:30 – 8:30am – Player check-in
8:30 – 8:45am – Player's meeting
9am – 12pm – Round 1
12 – 1pm – Lunch (one hour after the last card arrives)
1 – 4pm– Round 2
4 – 5pm – Payouts, raffle, award ceremony
Other Events During DHD 2023
No Results Found
The page you requested could not be found. Try refining your search, or use the navigation above to locate the post.
Find a Course! Click Here
See what the pros say. Click Here
Learn all about disc golf in Bowling Green. Ranked as the 9th best disc golf destination in United States and 1st in Kentucky, Bowling Green has 12 courses. Among these are 10 courses which have 18 or more holes. Bowling Green is also home to 9 leagues and 4 stores that sell disc golf gear. Explore the surrounding area to find 32 courses, 13 leagues, and 5 stores.

Blueways/Places to kayak/canoe:
Find an Access Point. Click Here
See what others say. Click Here
Find maps and more information about all of our paddling opportunities above. 

Visit Bike/Walk BG and find out more. Click Here
Bike rides and walks in and around town. Click Here
BikeWalk BG is a movement seeking to encourage biking and walking for all of Bowling Green. We want to empower you to get out and move – to feel safe and enjoy your adventure whether you're walking, running, or biking – by yourself, with friends, or with your kids.
have an event we should include?
We are always interested in a good reason for a road trip. If you have an event that week, let us know. We want to include our surrounding communities in this wonderful week!
Follow our Recommendations in Real Time.
Have you got an event in the Duncan Hines region that should be included in our celebration of food, travel and festivity? Let us know some information and we will include it in the site.